Point-to-pointing is often described as "racing in a field of its own". Quite literally, this is true! The majority of point-to-points – there are about 80 courses nationwide –take place in farmers' fields, used just once or a handful of times a season, with temporary facilities and food and drink outlets and bookmakers turning up on the day. For this reason, point-to-pointing is not just the grassroots of jump racing, but its bedrock and foundation, and is in the DNA of the rural community. Many rules racegoers are introduced to the sport through point-to-pointing, usually through family and friends and often via picnics at the car boot. It is certainly a more relaxed atmosphere than the professional sport – you can wander, eat and drink where you want (within reason), children are allowed to roam free and dogs are welcomed (on a lead, of course!)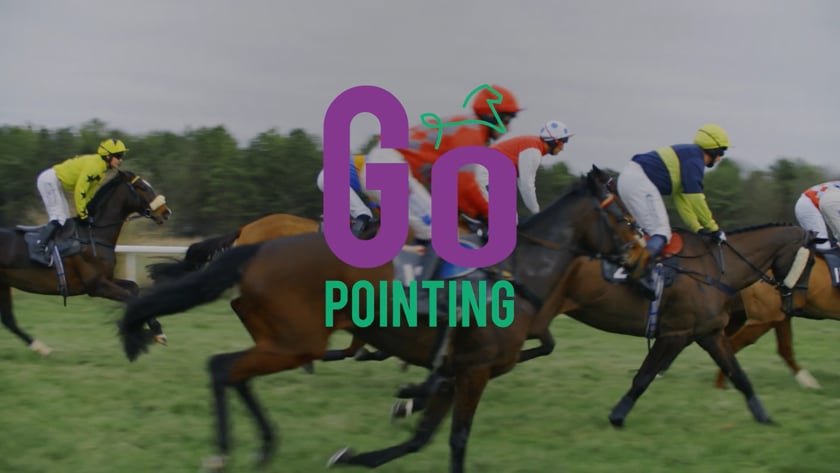 WHAT IS A POINT-TO-POINT?
A point-to-point is a horse race meeting over fences for amateur jockeys held at racecourses throughout Britain, most of which are rural and set-up specifically for the point-to-point fixture, rather than permanent locations. It's a great day out in the countryside where people come together to enjoy the sport and to socialise with friends and family.
Most point-to-point meetings consist of at least six races. The start times vary depending upon the time of year and number of races. Courses usually open their gates at least two hours before the first race, so you have plenty of time to grab a racecard, study the form and enjoy a picnic before racing starts.
FOOD, DRINK AND ENTERTAINMENT
While all point-to-point courses have a bar and stalls selling food and drink, point-to-points are a great opportunity to enjoy a picnic with friends. Most courses also have trade stands to allow you to go shopping, whilst some even have a country fair running alongside the day's racing. Entertainment for children is often provided in the shape of bouncy castles and fairground rides.
There's no dress code – you can wear what you wish. The season starts in November and finishes in mid-June, so a warm coat and wellies during the colder months are a must, along with thermal undergarments and waterproof clothing, whereas sun cream can be needed as we head into Spring and Summer.
Yes, point-to-points provide an ideal opportunity to spend a day in the countryside with your dog. Although please remember that dogs must always be on a lead, should not be left in cars unattended (particularly in warmer water, and to clean up after them.
Note that some point-to-points are held at permanent racecourses such as Bangor-on-Dee, Hexham and Fakenham, so you should check in advance whether dogs are allowed to enter.
Most point-to-points no longer have their own Tote, so betting is with bookmakers, who are usually located near the paddock (where the horses parade before each race). If you're unsure how to place a bet - just ask, and someone will be able help you out.
IS THERE ANYTHING ELSE I NEED TO KNOW?
Not all courses have facilities for card payments, so be sure to take enough cash to cover the cost of admission and a racecard, any bets you wish to place, and food and drink.
The sport of point-to-pointing has evolved considerably since the first fixtures were held in the 19th century, but a day at the races retains its "olde worlde" charm. The atmosphere is relaxed and informal, racegoers and participants alike can go where they please and you're bound to spot familiar and friendly faces. As for the racing, you can count on future stars of the racing world – equine and human – as well as local contenders doing it for fun, and for the love of the sport.
The first steeplechase was run over 250 years ago in Ireland. Chasing from steeple to steeple or "point-to-point" began in 1752 when a Mr Blake challenged his neighbour Mr O'Callaghan, to race four-and-a-half miles across country from Buttevant church to Doneraile church and to jump stone walls, ditches and hedges en route. By keeping the steeple of the church in sight (steeplechasing), both riders could see their finishing point.
THE BEGINNING OF
POINT-TO-POINT
The first traceable use of the phrase "point-to-point" in connection with a horse race in Britain is in Bell's Life in 1874. A race is described that took place on 2 January from Sutton-on-the-Forest to Brandsby, held by the 9th Lancers stationed at nearby York. The first reference to a hunt holding a point-to-point came in 1875, when the Sporting Gazette contained a detailed account of a Monmouthshire Hunt point-to-point chase held on 12 January from Llansaintfraed to Tykin-under-Little-Skirrid. The oldest point-to-point course still in existence is at Kimble in Buckinghamshire, which has been holding races since 1912.
In Great Britain, local hunts combined in 1913 to form the Master of Hounds Point‐to‐Point Association and issue a standard set of rules. Control passed to the National Hunt Committee in the mid-1930s and to The Jockey Club in the late 1960s. Nowadays, point-to-pointing is run under the auspices of the British Horseracing Authority.
Point-to-point races are normally run over a minimum of three miles, but certain races, including some blue riband events, are longer, and maiden races for young horses are usually run over two-and-a-half miles. A three-mile race is almost invariably two circuits of a typical point-to-point course, although there are one or two exceptions (e.g. Larkhill in Wiltshire). Every course must have a minimum of 18 fences, of which at least two must be open ditches, although this can be reduced if certain fences are unfit or unsafe to be jumped (e.g. due to ground conditions or a fallen horse being in the way). The fences are made of birch and are approximately four feet six inches high. The 2022/2023 season saw an innovation where the traditional orange guard rails on the fences were replaced with white ones, as under rules. Most point-to-point courses are laid out on farm land, although a few are placed on the inside of professional courses.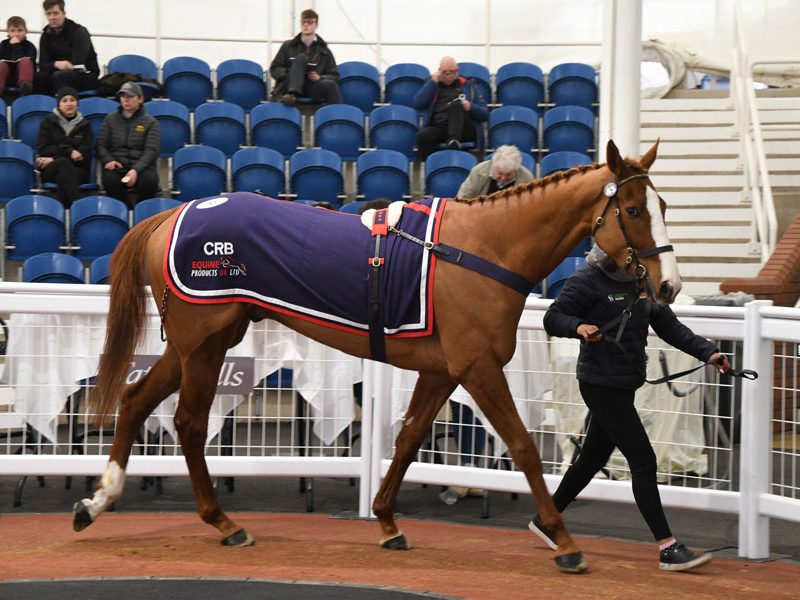 In recent years, reflecting the evolution of traditional countryside pursuits, the sport of point-to-pointing is changing. While many fixtures are still run by the hunts, there are an increasing number of point-to-point club fixtures and the sport is embracing greater professionalism. There are fewer of the traditional participants, who had one horse – or just a few – that they owned, trained (and often bred) themselves and that were ridden by family members. Many trainers and jockeys are now professional (in all but name) and work for licenced yards.
Improved horse and jockey welfare has been a positive outcome of this change, and point-to-pointing now benefits from a close association with the British Horseracing Authority Medical and Veterinary teams. Improved training facilities have resulted in horses becoming fitter and better schooled, and – along with improved course management – this has resulted in fewer falls and a lower injury rate, to both horses and riders.
For nearly 20 years now, pony racing has been staged at British meetings in an attempt to encourage more young riders into point-to-pointing and both jump and flat racing and another recent innovation has been the growth in 'young horse' (four- and five-year-old) maiden races, specifically designed to produce horses to be sold at the sales to go professional jump racing in Britain and Ireland. Every season now sees several point-to-point graduates being sold for six-figure sums.
For participants, pointing can act as a stepping-stone to Rules racing for young horses, jockeys, trainers, owners… and even officials. It offers horses a second career after Rules racing and can also provide a new career to participants, e.g. jockeys who retire from riding under Rules and start training pointers.
It also delivers a significant proportion of the numbers under Rules – 70% of licenced jump jockeys, 35% of licenced jump trainers and 10% of horses racing over jumps in any given season.
There are – broadly – three types of horse racing in point-to-points:
Young Horses using Maidens as a stepping-stone to rules.
Horses progressing through the grades and staying in point-to-points.
Older horses returning from rules.
Pointing has always been a nursery for future champions, dating back to Gold Cup winners See More Business and Cool Dawn in the 1990s. Now, it supports the development of young horses for Rules via young horse (4-5yo) maidens and point-to-point bumpers. Dual Champion Chase winner Energumene won his only start in British point-to-points and other maiden winners can be great value… and win Under Rules. For example, Ahoy Senor and Does He Know cost £50,000 and £38,000 respectively.
Others go through the grades in point-to-points – success in this field for the likes of Dr Kananga and The Galloping Bear led Ben Clarke being granted a licence to train Under Rules, while pointing can also give a new home to former Rules horses. Over 60% of horses formerly raced Under Rules but became too high in the handicap, lost their way or their owners were no longer interested in keeping them. Around 40% of horses are 10yo or older and the leading horse in the 2022/2023 season was 14yo ex-rules horse Southfield Theatre, placed twice at the Cheltenham Festival.
There are three other types of ex-jump horses racing in points: namely maidens who can't win under Rules, ex-pointers who have reached their level Under Rules and come back and horses "taking a break" who still have potential under rules.
There are – broadly – three types of point-to-point jockey:
"Professionals" (in all but name) – leading jockeys, who prefer to stay amateur, such as champions Gina Andrews and Will Biddick.
"Amateurs" (owner-riders / "Corinthians", e.g. city-based during week). David Maxwell would be the best-known example.
Actual professionals – stable staff working for Rules yards, including leading novices Molly Landau and Callum Pritchard.
British point-to-pointing has long been the key provider of jockeys to Rules racing. 71% of all jockeys and 68% of conditionals have ridden in British point-to-points, including over 75% of the top 50 jockeys and 4 of the last 5 champion Conditionals. Championship runner-up Sean Bowen and leading conditional Luca Morgan are two such names, while the last champion jockey to come from the sport was Richard Johnson and other leading protagonists with a point-to-point background are Nico de Boinville and Daryl Jacob.
In recent years, the traditional owner-trainer has been in decline and more point-to-point 'keepers', the likes of Tom and Gina Ellis' G & T Racing, are professional in all but name. Many of the larger operations are connected to a licenced trainer – Alan and Lawney Hill run a successful dual yard, with Alan training the point-to-pointers and Lawney holding the Rules licence and more licenced trainers are running horses, that they own themselves, in point-to-points. Names such as Fergal O'Brien and Ben Pauling spring to mind.
Licensed trainers like Tom Lacey, Joe Tizzard and Evan Williams all come from a point-to-point background and other successful yards are using their point-to-pointing connections to bridge the gap between the two forms of jump racing. The likes of Chris and Jenny Gordon split their yard to allow riders to develop in the point-to-point arena, Dan Skelton's assistant Nick Pearce trains pointers from a separate yard to offer race-riding opportunities to his stable staff and multiple champion jockey Will Biddick prepares and trains horses for Paul Nicholls, many of which go on to success Under Rules for the master of Ditcheat.
Owners of point-to-pointers are either traditional point-to-point families who would never consider switching to Rules, such as the Turner dynasty, those with a background in point-to-pointing, now turning increasingly to Rules – like Lynn and Martin Redman and owners who mostly have horses in the professional game but race the occasional point-to-pointer. Colm Donlon, for example, has had great success in recent years with Caid Du Berlais.
Many owners with a point-to-point heritage – the late Paul Barber, owner of See More Business and Denman, Ann Hamilton of Tommy's Oscar fame and Welsh Grand National-winning trainer Nicky Martin (The Two Amigos) are now racing primarily or exclusively Under Rules, whether for the better facilities, higher prize money, or greater glory…
Rules racing benefits from pointing expertise at senior and junior levels. British Horseracing Authrority senior judge Nick Bostock worked in a pointing yard as a teenager, briefly race-rode and still stewards regularly between the flags. Point-to-Point Authority Board member Fiona Needham won the Cheltenham Foxhunters as a jockey and is now General Manager of Catterick racecourse, and even youngsters are getting in on the act – 24-year-old jockey Nathan Green is in training to be a BHA steward
Bridget, Gina, Jack, Joanna and Simon
Simon Andrews and wife Joanna head up a point-to-pointing dynasty. Simon won the Aintree Foxhunters on Newnham in 1988 and all three of their children – Bridget, Gina and Jack – have been national point-to-point champions. Indeed, Gina has won the title ten times, took the Aintree Foxhunters on Latenightpass in 2022 and holds multiple records for wins by a female amateur.
Chris Barber is the latest member of one of the most famous point-to-pointing families to turn his hand successfully to the sport. Grandson of the legendary Richard – the leading trainer of all time – and cousin to fellow champion trainer, Chris has a reputation as one of the shrewdest handlers of young horses on the circuit and notched his biggest success in 2023 when Famous Clermont won the Aintree Foxhunters.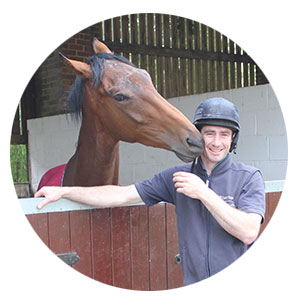 With all all-time leading total of 563 winners between the flags and a record-equalling eight mens championships, Will Biddick has a strong claim to be the greatest point-to-point jockey of all time – he has also trained a Cheltenham Foxhunters winner, Porlock Bay in 2021 and rode Famous Clermont to win the 2023 Aintree equivalent. Will also has a thriving yard in Somerset – near Paul Nicholls' base at Ditcheat – from which he trains as well as looking after pre-trainers for the champion National Hunt handler.
Cherry Coward is one of the best-known figures in Yorkshire point-to-pointing and comes from a family steeped in racing. She is the daughter of legendary trainer Mick Easterby, as well as being related to a plethora of other trainers from the Easterby clan, both under rules and between the flags! As well as saddling over 200 winners in points, she won the 2008 Cheltenham Foxhunters with Amicelli and has bred a champion jockey in 2013 National Ladies title winner Jacqueline, who now trains professionally. Her Low Moor Farm, Dalby, base is a true family operation, with her other daughter Sam an integral part of the yard's success.
Marton, near Rugby, based Tom Ellis – husband of leading female rider Gina Andrews – is the current pre-eminent trainer in the sport, having won the championship for the previous five seasons, setting new winner records in the most recent two, including 71 in 2022/2023. He has a deserved reputation with young horses, regularly achieving six figure sums when he sends his point-to-pointers to the sales.
Bradley Gibbs has been one of the most successful faces on the Welsh pointing scene since he rode his first winner in 2011. Best known for his associations with David Brace and his own father, also David, Bradley now trains with fiancee Claire Sherriff to a new yard near Hatfield, just north of London, owned by Claire's father Julian. Bradley achieved his greatest success as both rider and trainer in 2023, when Premier Magic took the Cheltenham Foxhunters.
Aston Rowant, Oxfordshire, based Alan Hill has been in the top echelon of point-to-pointing – in all its guises – since the early 1980s. A successful jockey, with 98 victories between the flags and 49 – including one Cheltenham and two Aintree Foxhunters – in Hunter Chases, he is now one of Britain's consistently winningmost trainers, with over 400 winners in point-to-points and Hunter Chases, more than any other current trainer. What's more, he is a highly regarded member of the pointing establishment and sits on the Point-to-Point Authority board.
Alfie, Charlie, Charlotte, Fraser and Izzie
Brightling, Sussex-based Charlotte Marshall's passion for point-to-pointing has been passed on to her children, leading jockeys Charlie and Izzie – four times runner-up in the female jockeys championship. She has also been a successful trainer in her own right, is the PPORA representative for the South East and husband Fraser is a regular announcer on the point-to-point circuit. Not to be outdone, youngest son Alfie has a 100% record in points, albeit from just one ride, and is a top eventer.
Nick Orpwood, who trains pointers from the family farm at Cornhill-on-Tweed in Northumberland, close to the Scottish border, is currently the most successful jockey from the Northern Area – and achieved his 100th victory in 2022 when Dream Over scored at Alnwick in January. His career total now stands at 114, ten of which have been achieved in Hunter Chases and he is closely involved with the running of the College Valley fixture.
Jockey Club member, steward, former Chair of the PPORA, owner… Richard Russell has worn many hats in racing in a career that spans over 50 years in the sport since his first victory at Kimble in 1969. But it is for his association with his top-class Teaplanter, one of the leading Hunter Chasers of the 1990s and whom he rode to 18 successes and second places in both the Cheltenham Foxhunters and Irish Champion that Richard is probably still best-known.
Few, if any, couples do more to support point-to-pointing in East Anglia than John and Mel Sharp. Based at Dullingham near Newmarket and both former riders – John with a particularly distinguished career, counting 168 winners between the flags alone – it is amazing they find time to run a successful horse feed business, Sharp Nutrition, alongside their pointing duties. A former Chair of the PPORA, John recently fulfilled that role again on an interim basis and remains Vice President for the East Anglia region as well as acting as Clerk of the Course at Horseheath. For her part, Mel is Area Secretary for point-to-pointing in their region.
Ed Turner is the scion of the Turner dynasty, the most successful family in the history of British pointing. Grandfather Joe has almost certainly owned and trained more winners than anyone ever, while his late father David won eight jockeys titles and held the record for most successes in the saddle until 2005, and David's sister Josie won five titles herself and was the winningmost female rider until passed by Alison Dare. While Ed, his mum Rose, brother Ben and wife Rosie are more focused on the family farm these days, they keep the flag flying with half a dozen horses in training.
Effingham, Surrey based Phil York is one of the longest-serving and most prolific jockeys on the point-to-point circuit. He had his first mount in 1983 and didn't ride his first winner until 1995, but since then he has notched up over 400, the majority of which have come between the flags. The latest landmark was achieved in May 2023 and he admitted afterwards, "The timing was perfect for a story. My 57th birthday, my 400th winner. It was nice to come in to the crowd singing 'Happy Birthday'."